Museum education
For visitors of all ages
Thanks to our range of museum education and nature studies activities, we offer preschool children and school parties from all types of schools as well as families a fascinating opportunity to get to grips with nature and science. Our activities for the young and old are all adapted to the ages.
The light-filled rooms of our museum education department in Haus Energie are an ideal place to conduct sophisticated trials and experiments. Our educational activities in the fields of chemistry, physics and colour convey theoretical knowledge as well as practical experience. We offer a wide range of topics to enable age-appropriate, activity-based learning.
Our aim is to give children and pupils low-threshold access to the natural sciences, to introduce them to Wilhelm Ostwald's scientific achievements, and to teach them some of the fundamental principles of various science subjects.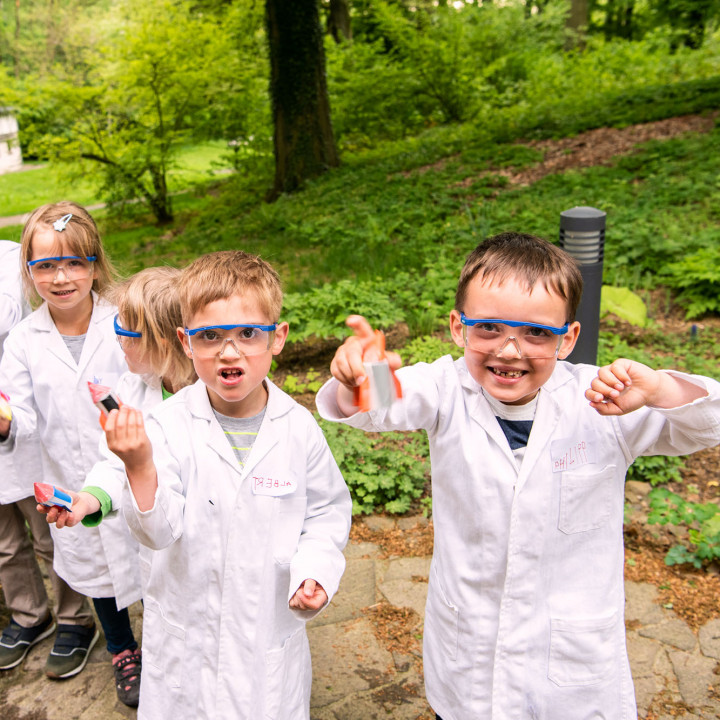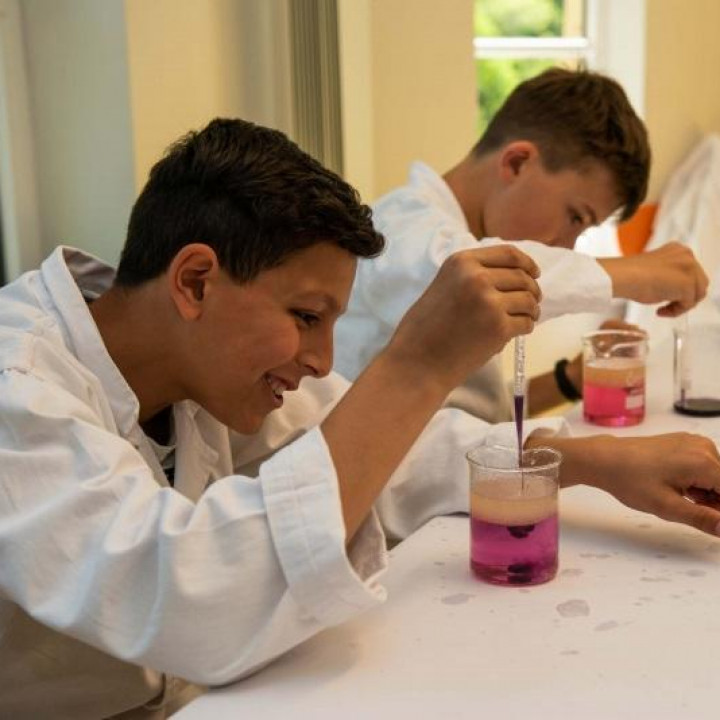 Experiments
Preschool
Colour races
Hovercraft
Red lemonade? Or green lemonade?
Electrical charges

Years 1–4
Optical colour mixing with the colour gyro
Yellow, orange, violet – A colour circle based on Ostwald's theory of colours
Making your own chalk
Building baking powder rockets
Cold solutions: How to cool things without a refrigerator

Years 5–7
A storm of colours in a glass of water
Fluorescence: The luminous drink
Guided tours
Wilhelm Ostwald Museum
Wilhelm Ostwald's travels (age 5–10)
Wilhelm Ostwald – Life and personality (age 10–18)


Wilhelm Ostwald Park
Family history of the Ostwalds
Architecture and outdoor facilities, including the wind turbine, donkey mill, quarry and ponds
Target group: Preschool groups, school parties from all types of schools, families
Duration: 2 hours (experiments, short tour of the museum and/or the park, with a break)
Fees for experiments: 40 € basic fee per group + 1.50 € material costs per child
Fees for guided tours: Preschool and school parties – 20 € per group; families etc. – 40 € per group (plus admission to the museum)
Group size: Up to 12 children + 1 accompanying adult (school parties will be divided)
Dates and times: By appointment (10am–5pm weekdays except Thursdays)
More information and registration:
Tel: +49 034 384 – 73 49 152
museum@wilhelm-ostwald-park.de
Holiday programmes
During the school holidays, especially in summer, we offer interesting leisure activities for schoolchildren aged between 7 and 13. Information about upcoming events is posted here in good time.
During the holidays, rally arches for the museum and the park are offered for children between 7 and 13 years old. Please ask at the museum ticket office!